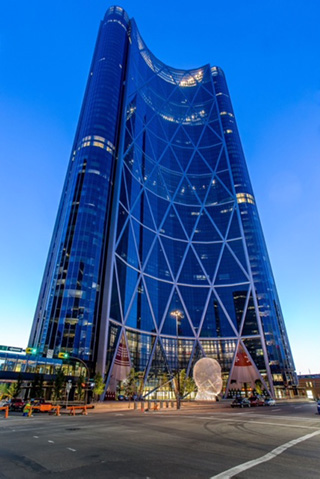 Encana & Cenovus - Tenant Fit up in Bow Tower
The Bow Tower is a 58 storey office building located in downtown Calgary. The tower is a stunning addition to the downtown skyline that can be viewed from every angle of the city. The Bow Tower ranked among the top 10 architectural projects in the world, according to Azure Magazine.
WEM completed the electrical work for the base building and the tenant fit-outs for both Encana Corporation and Cenovus Energy. As the electrical contractor for these projects, WEM was responsible for providing the distribution, emergency responders DAS, lightning protection, wireless lighting control system, security, fire alarm, emergency power, sound masking, telecommunications and temporary power systems. Several unique aspects of the work included phased occupancies over a nine-month period, the connection of a Fire Alarm Hi-Fog System and Beam Detector Fire Alarm Systems, internally manufactured fan-powered box control for fire alarm shutdown, a splitsecurity system and three sets of emergency generators.
WEM's office and field teams worked collaboratively with the prime contractor, consultant group, and ownership representatives to achieve the turnover requirements for the phased occupancies. The completed tower now houses 53 floors of office space, two stories of retail space, four mechanical floors, 40 elevators, several sky gardens, +15 skywalk connections and a six-level parkade spanning two city blocks.
Project Photos
back to projects