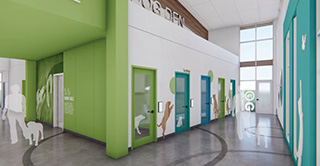 Regina Humane Society - Animal Community Centre
The newly built Regina Humane Society will serve the Regina area and will offer new services including a 24hr veterinary clinic, stations for dog washing, adoption gallery and gift shop.
Our scope of work included cable tray installations, low voltage distribution systems, high-end lighting solutions, lighting control systems, standalone emergency systems, communication systems, security systems, and fire alarm installations. These elements were designed and implemented to ensure the safety, functionality, and efficiency of the facility.
The project presented unique complexities and challenges due to the need for specialty lighting to create a welcoming and soothing environment for the animals and visitors. Additionally, the installation of veterinary equipment required careful coordination and integration to provide a seamless experience for the veterinary staff and the animals in their care.
Project Photos
back to projects