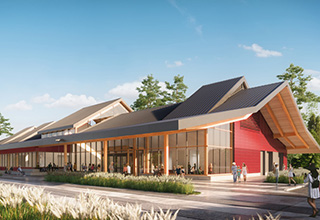 Sam Centre - Calgary Stampede
The Sam Centre project is a 30,000 sq.ft. exhibit space designed to offer immersive experiences and exhibits. The facility includes two galleries, a multi-sensory digital experience, retail and dining areas, public access to the Stampede Collections workshop and a secure artifact vault and with quarantine area.
The scope of WEM's work covered electrical and communications tasks, such as Medium Voltage Distribution, Cable Tray, Low Voltage Distribution, High-End Lighting, Lighting Control, Communication Systems, Security Systems, Fire Alarm, Site Works, and Heat Trace. The project presented challenges due to the implementation of a 5kV Medium Voltage service, a unique lighting and lighting control system.
Success was achieved through effective collaboration with the project team, ensuring smooth coordination and integration of complex installations, resulting in an innovative and functional exhibit space.
Project Photos
back to projects