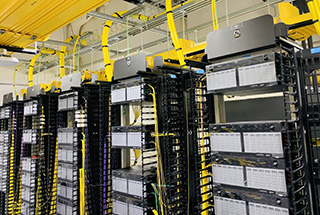 BMO Centre Expansion – Enabling Works
WEM provided electrical and communications contracting services in preparation for the construction of the BMO Convention Centre Expansion located at the Stampede Park in Calgary. WEM's responsibilities encompassed managing several Enabling Works projects, including the installation of fiber optic cables, the completion of a substation upgrade, the completion of Phases 1A/1B/1C and 2, and the demolition and relocation of the BMO Data Centre.
WEM removed redundant copper and fiber optic cable and replaced it with new copper and fiber optic cable. The new cables were then connected to the new Data Centre in Hall F and tested throughout the Park. This project's construction activities required WEM to work with the Park's existing duct bank system and use confined space practices in several outbuildings while being cognizant of the Calgary Stampede's operational requirements and obligations to the public.
During the Substation Upgrade, WEM managed the ongoing power requirements of the Park's facilities using a phased approach to the demolition and replacement of the 5kV and 25kV switchgear. This required continuous communication with the Calgary Stampede and the provision of temporary switchgear to ensure power was provided to end-users even during the main 5kV & 25kV switchgear's disassembly and rebuild.
During Phases 1A/1B/1C and 2, WEM relocated electrical and communication equipment in the BMO Centre, in preparation for the demolition of the Corral Arena, Hall A and the Scotiabank Saddledome +15 Bridge. WEM also modernized and expanded the equipment in the BMO Centre to accommodate the future requirements of the BMO Centre Expansion.
The Stampede Park Data Centre Relocation required the original Data Centre to be decommissioned and relocated to Hall F. To keep the BMO Data Centre services accessible to onsite users, WEM was responsible for keeping communication systems operational throughout the project. Meticulous planning and regular communication with the Calgary Stampede and other team members kept the project on-track while minimizing disruptions to the Park's many occupants and user groups.
Project Photos
back to projects