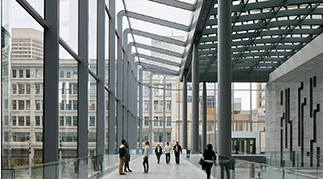 Cenovus Energy – Tenant Fit up in Brookfield Place
Cenovus's offices occupy the upper floors of Brookfield Place, which is the tallest building in Calgary at 247 meters high. WEM was contracted by Ellis Don Construction to supply and install the electrical and telecommunication components of the tenant fitout for Cenovus, following the completion of Brookfield Place's shell. This expansive fit-out required the development of 25-floors of interior office space. Cenovus's state-of-the-art offices extended from the 32nd floor to the top 56th floor of the East Tower.
WEM's project team installed the lighting, power, access control, fire alarms, and telecommunication system throughout Cenovus's workspace. This required the management of complex elements including high-end lighting, additional security features and audio/video cabling to serve the boardroom and executive levels. Through careful planning and collaboration with stakeholders, the project was successfully executed and each of Cenovus's 22 occupancy dates were delivered on time.
Project Photos
back to projects