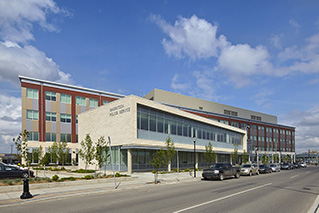 Saskatoon Police Services - Headquarters Building
The City of Saskatoon's objective for this iconic project was to develop a progressive facility that consolidated the original Saskatoon Police Services Headquarters and nine satellite offices into one centralized location. WEM was selected by Ellis-Don to provide electrical contracting services during both the pre-construction and construction phases. In the 'design-build' capacity, WEM provided input on the building's distribution, emergency and security systems.
They also collaborated with the entire construction team to ensure the project was value engineered while meeting specific design, schedule and budgetary objectives.
During the construction phase, WEM installed the lighting, fire alarm, security including access control & CCTV systems throughout the complex, which included forensic labs, detention cells, dog kennels, fitness facilities, a firearms range, gymnasium and a 911 call-centre. As part of the buildings' extensive emergency systems, WEM installed four 500 kilowatt generators and an Uninterruptible Power Source system of equal size. The Saskatoon Police Services building was completed in 2015 and certified to LEED® Gold standards. During the same year, it received the Premier's Award of Excellence in Integrated Design.
Project Photos
back to projects