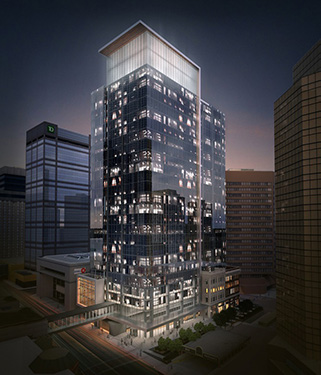 Kelly Ramsay Tower (Now Enbridge Centre)
WEM was hired by Ledcor Construction to complete the electrical contracting component of a substantial tear down of existing Kelly Ramsay buildings in Edmonton, reconstruction from ground up. As the electrical contractor of choice, WEM supplied and installed the lighting, lighting controls, distribution, fire alarm, security and emergency generators systems to the new build. WEM worked with Ledcor and the other trades to complete unique features of the building including highly efficient floor plates, energy-efficient lighting, a five-level private underground parkade and a state-of-the-art fitness centre.
By August 2016, the Class AA Office Building stood 25 stories tall and contained 551,208 square feet of space in the heart of Edmonton's Financial District. The original brick façade of the 100-year-old Kelly Ramsay building remains intact while the two-story light-box that tops the new build illuminates Edmonton's skyline. The former Kelly Ramsay Tower has since been renamed the Enbridge Centre and has obtained LEED® Gold Certification.
Project Photos
back to projects