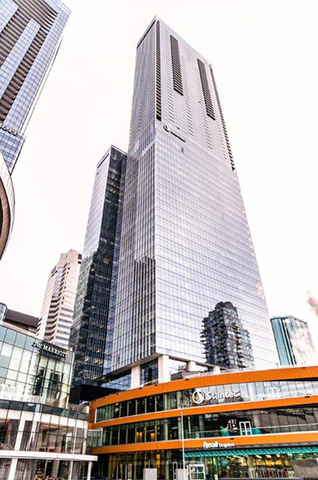 ICE District - Tower E (Stantec Tower)
The Stantec Tower is a mixed-use skyscraper located at the heart of Edmonton's ICE District. This architecturally stunning tower stands 251 meters (823 feet) high and is the tallest building in Canada outside of Toronto.
It was granted LEED Gold Certification and received the Award of Excellence from the Consulting Engineers of Alberta in 2020. WEM was chosen by PCL Construction to be the electrical contractor on this project which encompassed a 69-storey tower including 23 office levels, 37 residential levels, five mechanical levels and four levels of podium and a six-level belowgrade parkade.
WEM's work required the installation of fire alarm life-safety systems, lightning protection, telecommunication systems, lighting/lighting controls, and electrical distribution systems throughout. Energy-efficient lighting, a LEED level lighting-control system, medium and low voltage power systems, high-end feature lighting in public spaces, a tenant-amenities floor, and an expansive patio on level 30, were just some of the unique features completed by WEM in collaboration with PCL Construction and other trade partners.
The electrical and telecommunications for the core/shell and the residential fit were completed several months ahead of schedule with three phased occupancies over a one-year period.
Strong collaboration between project partners, excellent preplanning, scheduling, and 'just in time deliveries' were key factors that contributed to the project's early completion. The completed building is a soaring landmark that houses 23 floors of office space, 483 luxury residential units, below-grade parking stalls and high-end commercial space.
Project Photos
back to projects