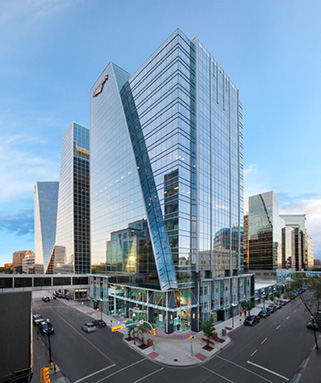 Mosaic Tower at Hill Centre III
The Mosiac Tower at Hill Centre III is an architecturally stunning building that aligns perfectly with the symmetry of its neighboring buildings. It stands 18 stories high, has 240,000 square feet of office/retail space, and features a sprawling 1,300 square foot conference centre, a 3,000 square foot rooftop patio and a public atrium with rotating art exhibits.
WEM was chosen by Ledcor Group to be the electrical contractor for this Class 'AAA' office development, which allowed WEM to prove themselves on a large scale project in Saskatchewan. WEM was responsible for installing distribution, lighting, lighting control, security, fire alarm, and telecommunication cabling. They also installed unique features such as specialty lighting and 'destination dispatch' elevators. WEM's proven experience, work ethic, and knowledge resulted in the successful delivery of the project in 2013.
WEM continues to be proud of this respectful addition to Regina's skyline; one that signifies growth and progress within the province of Saskatchewan.
Project Photos
back to projects