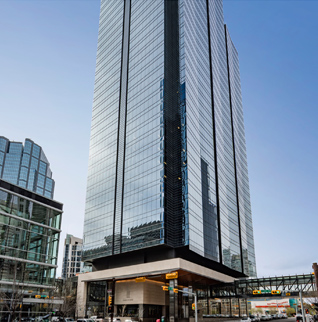 Calgary City Centre
Calgary City Centre office tower is a 36 storey class AAA building equipped with many state-of-the-art features including five stories of occupancy sensor lighting controlled underground parking, eight high-speed elevators, a sophisticated security system and sustainable energy sources.
During preconstruction, WEM provided strategic input on plans for electrical, telecommunication, communications, and security components of the building. In a design assist role, WEM's onsite team and office team worked collaboratively to improve electrical drawings and contributed to value engineering. Together they strove to add value at each project phase and positively impact the design, schedule and cost of the build.
During construction, WEM was responsible for installing lighting, lighting control, communications, and security systems throughout the 1.2 million square foot building. Specialty lighting in the elevator lobbies, a building wide access card security system and a Public Safety Distributed Antenna System (DAS) were just some of the unique features of the design. The project also required a temporary communications riser for the BMS system for BMS programming/set up, until the permanent system was functioning, and base building communication riser for the consolidation of building services was available.
The Calgary City Centre was one of first LEED Platinum Certified office buildings completed in Canada. It was awarded the top commercial building over $50 million at the 2015 Alberta Construction Magazine Top Projects Awards and was awarded the Office Development of the Year by NAIOP Calgary.
Project Photos
back to projects